We are lucky to have an incredible team of Dental Assistants: Lisa, Pat, Mary, Mirela, and our newest addition Chelsey!  We are thrilled to welcome another amazing assistant to our team!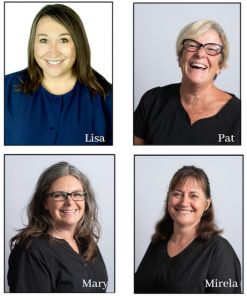 You may have met one of our dental assistants while experiencing their compassionate care as they assisted Dr. Brunacini or Dr. Karagiorgos with one of your dental procedures.  They are all committed to improving the patient experience so you can feel relaxed during your appointment, and they love to help people have beautiful smiles.  They are a key part of our practice and really are a dream team!  In honor of Dental Assistant Recognition Week this March,  let's hear some of what they have to say about their important work:  
Lisa 
"The people at FDA–from top down–are positive, caring, friendly, and helpful.  It's a joy to come to work each day!"
Lisa has been helping patients for 25 years.  For Lisa, one of the most fulfilling parts of her job is helping patients improve their smiles with cosmetic dentistry.  Lisa loves attending continuing education courses for cosmetic dentistry so she can be current with all the latest procedures.
Pat
"I love helping patients feel relaxed and at ease during their dental appointments.  There are people who dread coming and some are very fearful. I understand their anxiety.  I hope my presence, compassion, and experience as a Dental Assistant helps everyone have a better experience when coming here."
Pat has been a Certified Dental Assistant for over 17 years and handles patient radiology and assists chairside for cosmetic and restorative procedures.
Mary
"Our motto is, 'Have fun while doing great work!' It's all about working as a team to do the best for our patients and keep them relaxed. Everyone here helps each other."
Mary has worked in the dental field since 1995 and is committed to communicating with her patients. "We explain things and show examples to our patients. I think this really helps them understand and feel more at ease. They'll ask more questions," says Mary. She truly enjoys helping people and loves seeing the results of a successful treatment. "I love knowing that our patients feel good about themselves afterward. They see the success, too."
Mirela
"Everyone at FDA really cares – about patients and each other – and that's what makes it work. When your co-workers create a comfortable environment for you then you can make it more comfortable for your patients in turn. It makes for a very warm and caring atmosphere."
Mirela has worked in the dental field since 2003.  With a background in pediatric dentistry, Mirela is committed to helping patients feel comfortable while receiving procedures.  You can find Mirela assisting chairside and helping with laboratory responsibilities.
Chelsey.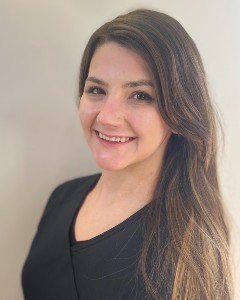 "I love seeing a patient's mood change from when they sit in the doctor's chair to when they leave the office…whether it's a restorative case or a cosmetic case, the patient leaves much happier than when they first arrived!"
Chelsey joined FDA in 2020.  With childhood dreams of entering the dental field and a formative experience traveling to Central America on a mission trip to assist a dentist with restorative work, Chelsey is now starting her new career with hands-on-training and support from the team of knowledgeable and compassionate medical professionals at FDA.
Thank you, Lisa, Pat, Mary, Mirela, and Chelsey!  We are grateful for your commitment to patient care and dental excellence!
If you have questions about a dental procedure that our team of outstanding Dental Assistants help provide, or need to schedule your next appointment, please give us a call at 207.781.5900.  We look forward to helping you have a healthy, happy smile!