r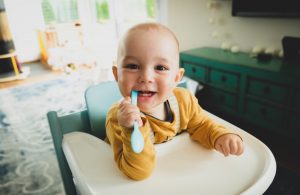 Our Commitment to Your Children's Oral Health
Here at Falmouth Dental Arts, we love helping children learn more about their oral health. We believe good oral habits start early and this is why we are committed to promoting positive dental experiences for lifelong dental health. Our dental team focuses on proper homecare education including dietary habits while checking for tooth decay and developmental problems. We pride ourselves on providing quality dental care to generations of families and believe that a family approach provides ideal support to our young patients both in the office and at home.
Your Child's First Dental Appointment
We want all of our patients to feel excited and confident when visiting our office, especially your children. Generally, during the first visit we will introduce your child to the dental chair and all of the things that we use during routine cleaning appointments.
We start by taking a look into their mouth in order to assess oral health. This will help guide our conversations about homecare, habits and dietary considerations. Our dental team is wonderful at assessing your child's comfort level during the appointment to ensure a positive experience. The first appointment may also include x-rays, sealants and/or a fluoride treatment depending on your child's needs and readiness.
It is our pleasure to continue to serve your family and welcome your children at our practice.
We are here to help! To book an appointment or for any question, please contact us. 
Address
168 U.S. Route 1
Falmouth, ME 04105