Dr. Brian Brunacini
"I love getting to know our patients and working together by sharing what I see and can potentially do for them. I really enjoy empowering patients to be more involved in their healthcare decisions so that they can improve their health."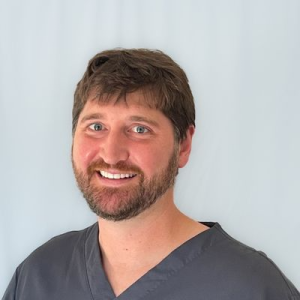 Dr. Brunacini enjoys the variety in dentistry as it allows him to solve problems, propose solutions, and work with patients on prevention. Dr. B feels that the kind of progressive dentistry Falmouth Dental Arts employs is part of a larger paradigm shift in American dental health. By working together as a team, our staff – from receptionist to assistant to hygienist to dentist – can all help patients better understand procedures and treatments.
"I'll narrate as I work, if patients would like to know what is happening, and I use an intraoral camera to provide visuals," Dr. B explains. Our office's laid-back atmosphere contributes to a comfortable, inviting place for patients, he says, and it's the integrity of each member of the staff coupled with the use of crest-of-the-wave technology that makes Falmouth Dental Arts an ideal practice in which to build lasting relationships.
After earning his Bachelor of Science degree in Biochemistry at Denison University in Ohio, Dr. B graduated from the dental program at Ohio State University. Since joining Falmouth Dental Arts, he has also completed oral conscious sedation course work and is interested in digital dentistry for its ability to improve the accuracy of diagnoses and the quality of dental care.
Dr. Brunacini and his wife welcomed their son Leo in 2015, and their family lives in Falmouth. He likes to enjoy good food, play a variety of musical instruments; including guitar, piano, drums and bass, and hit the slopes in the winter.
We are here to help! To book an appointment or for any question, please contact us. 
Address
168 U.S. Route 1
Falmouth, ME 04105