March 6–12, 2022 is Dental Assistants' Week, a celebration of dental assistants and the value they bring to our patients and to the FDA team. This year's theme is, "Passionate about our patients, dedicated to our profession," and each of our five multi-talented dental assistants exemplify this on a daily basis. They each bring their skills and positive attitudes to our practice, and are always seeking to elevate the comfort and satisfaction of our patients. If you've had an opportunity to meet Lisa, Pat, Mary, Mirela, or Chelsey, then you know this to be true! In honor of our fantastic team, we have put together some quotes from our dental assistants themselves, sharing what they love most about their jobs. We appreciate them during Dental Assistants' Week and every day!
Lisa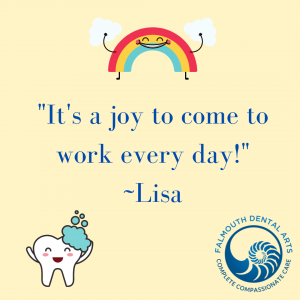 Lisa has been helping patients achieve better smiles for more than 25 years, joining the FDA family in 2019. For Lisa, her joy of coming to work also extends to providing excellent preventive, restorative, and cosmetic dental care for FDA patients. And it is a joy to have her on our team. Thank you, Lisa!
Pat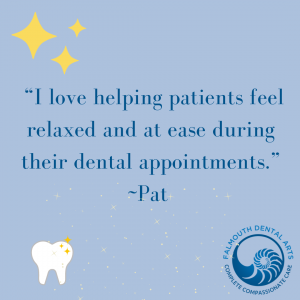 Pat has been a Certified Dental Assistant for over 17 years . She handles patient radiology and assists chairside for cosmetic and restorative procedures. We are grateful for Pat and the compassion she shows our patients. Thank you, Pat!
Mary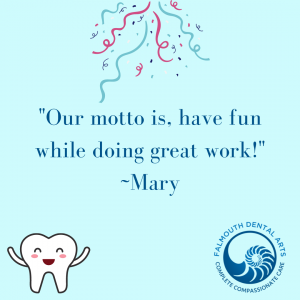 Mary has worked in the dental field since 1995, spending many of those years at Falmouth Dental Arts. Mary enjoys helping people and seeing the results of a successful treatment. We love Mary's positive attitude and commitment to the team. Thank you, Mary!
Mirela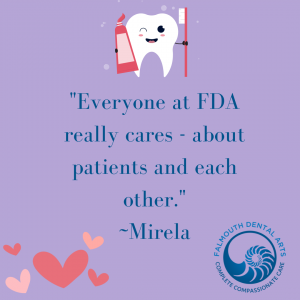 Mirela has worked in the dental field since 2003, joining the Falmouth Dental Arts team in 2017. With a background in pediatric dentistry,  Mirela demonstrates exceptional compassion for her patients and team. Thank you, Mirela!
Chelsey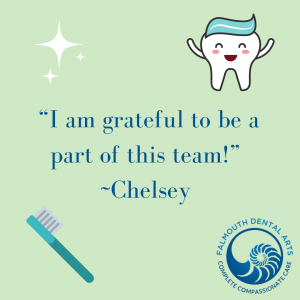 Chelsey joined FDA in 2020. After an experience traveling to Central America on a mission trip to assist a dentist with restorative work, Chelsey realized she wanted to work in the dental field. We are grateful to have Chelsey on our team! Thank you, Chelsey!
Learn more about our fantastic dental assistants and the rest of our team of compassionate dental professionals here.
If you have questions about your oral health or need to schedule your next appointment, feel free to give us a call at 207.781.5900. Our wonderful dental assistants, along with Dr. Brunacini, Dr. Karagiorgos, and the rest of the team, are here to help!