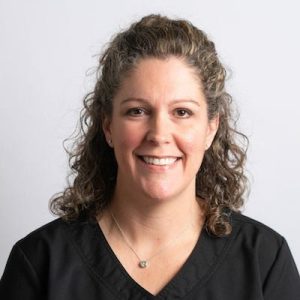 Erin Dental Hygienist
"Dentistry is continuously evolving and we strive to stay on top of the newest information. We pride ourselves on continuing our dental education and sharing our knowledge not only with each other, but with our patients too."
Erin graduated from Westbrook College in 1996 with a B.S. degree in Dental Hygiene, as well as a nitrous oxide certification. She has been in the dental field ever since, joining Falmouth Dental Arts in February 2019. However, her love of oral health apparently goes back even further–her mom reports that as a little girl, Erin would watch TV and comment on the actors' teeth.
At Falmouth Dental Arts, Erin is delighted to be part of an amazing team that puts patient comfort and patient education first. "FDA takes the time to get to know patients to create individual treatment plans based on their needs and wants. I love educating my patients about the new developments in dentistry." She enjoys treating patients of all ages, and finds it rewarding to form relationships with them. "It's such an honor to take care of generations of the same family."
Erin loves to spend her free time with her husband and their two boys. They enjoy fishing, cooking, and hanging out on the beach.